Add a file to the process package
Within the order processing, under the 'Process package' tab, clicking on the 'Add file' button will open a window for adding a new file to the process package.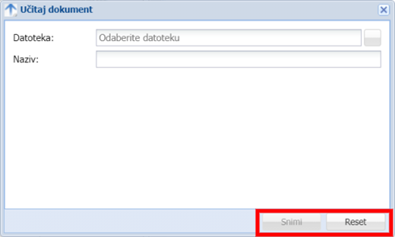 This window consists of a file entry form, which contains the 'File' and 'Name' fields. Under 'File' on the right is a button to select a file on your computer. Under 'Name', the name of the selected file is displayed. In the lower right corner of the window, marked with a red border in the image, there are two buttons: 'Save' and 'Reset'.
By clicking the 'Save' button, the selected file will be uploaded and placed within the process package of the selected activity.
Pressing the 'Reset' button will erase the data on the file entry form.