Application login
The Sciomagis Sky Portal application is a web application that is used through an internet browser (Google Chrome, Internet Explorer or some other).
After entering the address of the application "https://www.sky-flow.net/sky" in the address bar, the user authorization form, as shown in the picture below.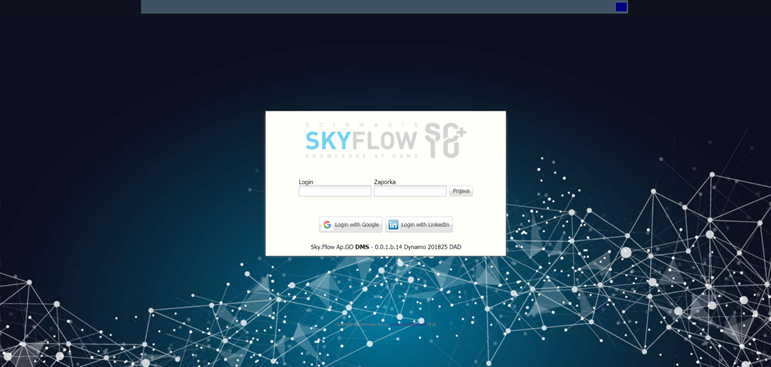 The user can log in in three ways: Through his/her username and password, through his Google account and through his LinkedIn account.
Entering the username and password, and clicking the 'Login' button, the user logs in to the application.
By pressing the 'Login with Google' or 'Login with LinkedIn' buttons, the application redirects to login via Google or LinkedIn. User settings for linking a user account to Google or LinkedIn are described in the chapters linking the account with a Google account and linking the account with a LinkedIn account.
After successful login, homepage of the Sky ap.GO application opens. In the top left corner of the page, by pressing the 'Sky ap.GO' will open the drop-down menu. In this menu, you need to select the 'Sky Portal' option to direct you to the Sciomagis Sky Portal homepage.