Tab 'Activity'
The 'Activity' tab is used to display activity data. The form for entering data on the selected activity is opened by clicking on the 'Activity' tab within the interface for canceled accounts.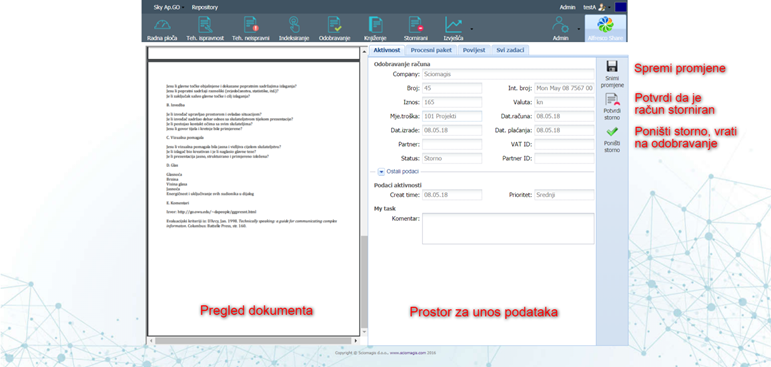 The activity data entry form contains the following fields:
Under 'Account approval' there are fields with basic account data: 'Company' - company name, 'Number' - account number, 'Int. number ',' Amount ',' Currency ',' Month. cost ',' Dat. account ',' Dat. making ',' Dat. payments', 'Partner', 'OIB', 'Status' and' Partner ID '.
Under 'Other data' there is data by fields, and they are opened by pressing the arrow located in the code. The fields that are displayed are: 'Header', 'Basic date ',' terms of payment ',' Ref. ',' FI number 'and' MM number '.
Under 'Activity data' there are fields 'Created' - account creation date and 'Priority', which can be low, medium or high.
Under 'My task' there is a field 'Comment'.
All fields of this card are used to display data, are filled in automatically and cannot be changed. Only within the 'Comment' field can we enter a comment about the activity.
The toolbar when entering activity data consists of three buttons: 'Save changes', 'Confirm cancellation' and 'Undo cancel'. Clicking the 'Save Changes' button saves the changes entered in the activity data entry form. Pressing the 'Confirm cancellation' button confirms that the incoming invoice has been canceled and it is saved in the archive. By clicking on the 'Cancel cancellation' button, the account is returned to the accounts for approval.